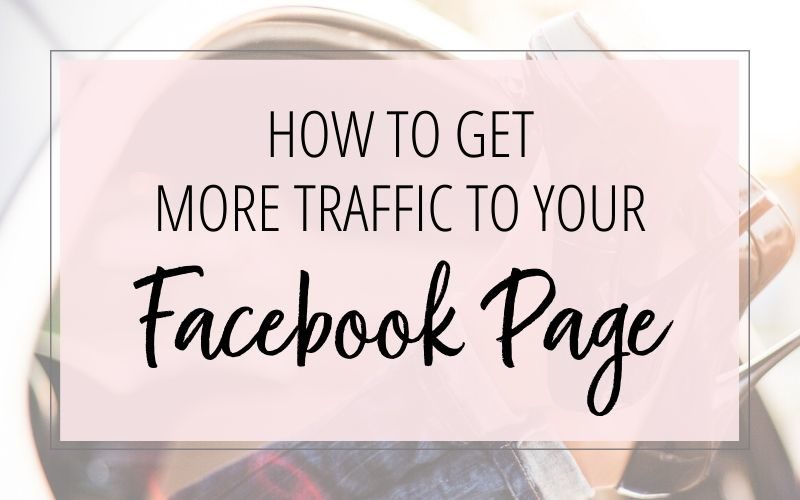 Here is a common mistake that I see so many entrepreneurs making on Facebook: they don't have a link on their Facebook profile (personal account) to their Facebook page (business account). Why is this a mistake? Adding a link to your Facebook Page from your Facebook Profile can get more traffic to your Facebook Page!
Now before I explain how to add the link, let's figure out why you should do that:
Do you think people on Facebook might search for you (or discover you) by your personal name (versus by your business name)?
Are you active on any Facebook groups?
Do you Like or comment on your friends' Facebook posts or other Facebook pages' posts?
Do you get invited to any Facebook Events?
I'm guessing you said "yes" to at least one of those questions. So let's assume that someone sees your Facebook profile through any one of the above-mentioned scenarios. When they click on your name to see more about you, they will get to your Facebook Profile. BUT… as a savvy business-owner, you would ideally prefer that they were on your business's Facebook Page, right? So let's make it easy for them to get over there!
Here's how my Facebook Profile looks to someone who I'm not currently friends with on Facebook: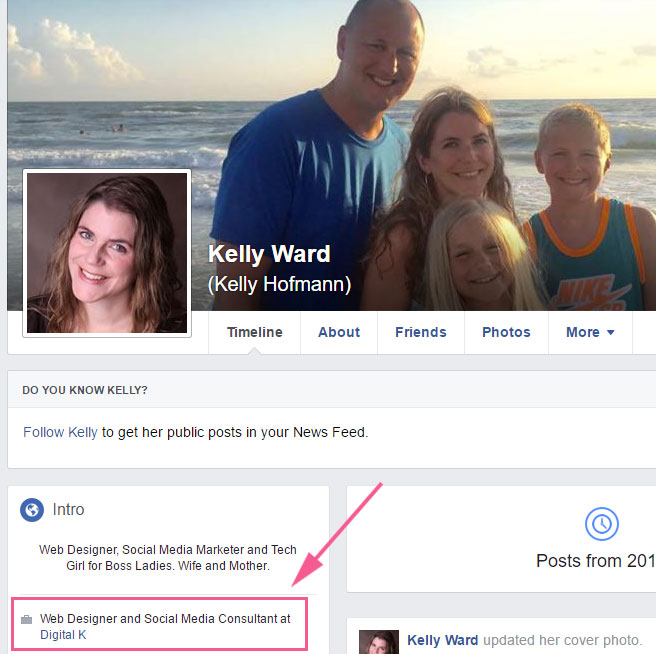 See how it lists my business name (Digital K)? That is a clickable link and it goes right to my Digital K Facebook Page. So any time someone looks at my profile, I'm making it easy for them to find and connect with my business on Facebook. Here's how you can do this too:
How to Add a Link to your Facebook Page from your Facebook Profile
On your Facebook profile, click the "About" tab underneath your cover image.
In the "Work and Education" section, click on "Add a workplace"

Start typing in the name of your Facebook Page. If it appears in the list, click on it. If your Facebook Page doesn't appear in the list, try entering "@" plus the username of your page. Then click on your Page.

Optionally enter in your Position, City/Town, Description and Time Period that you've been in business. Then click the "Save Changes" button.

And that's it! Now when someone "sees" you on Facebook through a Facebook Group (or on a post, event, or search, etc.), you have an opportunity to get them over to your Facebook Page.
Want to test it out and see how it looks for people who you aren't Facebook friends with? Here's how:
See What Your Facebook Profile Looks Like to non-Facebook Friends
On your Facebook profile, click the button with the 3 horizontal dots on it and then select "View as"

You should see a notice at the top, showing you that you're viewing your profile as "Public":

I hope you found this tip helpful! It's really quick and easy to link to your Facebook Page from your Profile. So get to it! And while you're on Facebook, head on over to my Facebook Page and Like it so we can stay connected!
Don't forget it… Pin it!