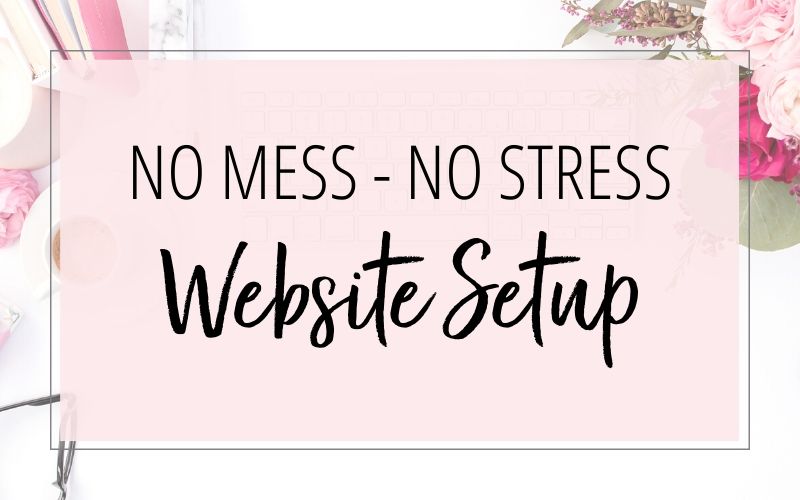 A custom website design is great for entrepreneurs and businesses that really want to "up their game" and have a website that is built with a strategy to help grow their business. But what if you (or your business!) are not ready for that just yet?
I've heard from many of you, "I just need to get this website up already!" When I ask: what's stopping you? The most common replies I hear are:
I don't know how to get my website to look the way I want it to.
I don't want to deal with the techy stuff that comes along with setting up a website.
I don't have the time to figure this all out!
I'm just starting out – and I don't have the money to invest in a custom-designed website.
Well, I've heard you loud and clear! And that's exactly why I've created my "No Mess – No Stress!" Website Package. You can get a professional new website without the stress and mess of DIY-ing it …in just one week! 
Here's what I take care of for you:
Install and setup WordPress on your web hosting account
Install and setup the customizable WordPress website of your choice
Add your logo to the website
Setup your website menu, header and footer (and optional sidebar too!)
Setup 5 web pages and/or blog posts – including adding your content and images for you!
Setup a newsletter opt-in on your website (installing the form code from your email newsletter provider).
Basic SEO (on-page search engine optimization) – to help you get found in search results in Google (and other search engines) – and get more traffic to your website.
PLUS THESE BONUSES:
1 year of web hosting
2 weeks of support and minor updates after your website goes live
Training videos so you can make changes to your website and add new content yourself
Get your website up-and-running already!
and then sit back and relax while I setup your website for you!
Don't forget it… Pin it!