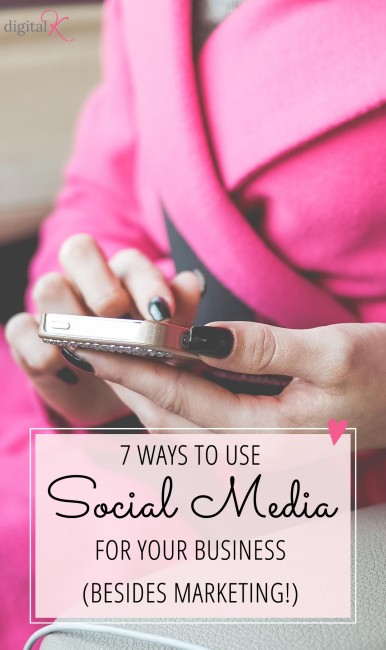 Most business owners think of their social media accounts as marketing tools. They create Facebook pages, Twitter accounts, Google+ pages, Pinterest and Instagram accounts, and LinkedIn profiles – all in the hopes of expanding their marketing efforts. However there are many more ways to use social media for your business besides marketing! Here are 7 additional ways to use social media for your business:
1. Recruiting
LinkedIn might be your first thought for finding and hiring professionals in your field. However you can also use other social media platforms as well. Create a detailed listing of what you're looking for and post it on your social media accounts. Ask your friends and followers to apply – or share if they're not interested in the position. It's more than likely that a candidate who responds to your post will be more compatible than using a large, impersonal job board.
2. eCommerce
Many ecommerce programs have custom apps that you can use to sell your products right on your social media account. For example, popular ecommerce platform, Big Commerce, has a free Facebook application which is used by more than 10,000 businesses to sell on Facebook. Your Facebook fans can browse products, make purchases, manage orders, redeem gift certificates, submit product reviews and more — without ever leaving Facebook.
3. Rewarding Your Customers
Provide games, coupons, discounts and more for your customers using social media. People love getting free things – or a great deal. So encourage more interaction and reward your fans and customers on your social media accounts. It's a win-win situation!
4. Branding your Business
It's important that your business brands itself as honest, relevant and generous across all your social media accounts. Be aware of how your customers, employees and contractors view your business via all your social media interactions. Listen and respond to feedback.
5. Rewarding Your Employees
Recognizing successful employees on social media is a great way to encourage and motivate them. Plus it can give your business a more personal feel when your customers are able to see the people that make up your business. If you have an employee of the month program, don't just post the notice in the break room; post it on your social media accounts too.
6. Speeding up Communication
Many consumers turn to a company's social media account to get help with customer service. Make sure you respond quickly – as many people rely on quick responses online. You can also set up Facebook groups for your customers – or private Facebook groups for your employees. It's a great way to speed up communication between customers (or employees) and to build a community.
7. Monitoring Trends
Track trends by industry, location, or issue to keep you up-to-date on trending topics – and popular views on those trends. This can provide you with potential ideas for new products and services, blog posts, training and more. Monitor trends through the use of hashtags. Also many social media platforms provide "What's Trending" information. You can also setup Google Alerts for your brand, your industry, and other key words that you want track.  
Use social media to form a connection with your community and your employees. By being involved with social media, your business can improve customer perception and increase employee satisfaction. Decide which of these examples fit your current business goals – and then get started!  Just make sure you are creating a social feed that is helpful, interesting, and valuable.