Last month I attended the Social Results Summit in Dallas, TX, hosted by social media strategist, Isaac A. Wardell. Facebook Marketing experts Phyllis Khare, Amy Porterfield  and Andrea Vahl were on stage together for the first time ever, delivering sessions designed to help increase effectiveness on Facebook.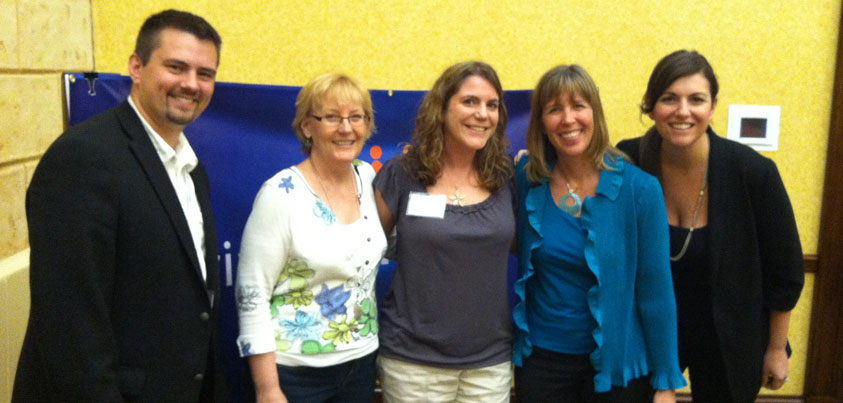 Here are a few of my favorite tips I learned from these four Facebook experts during the summit. (And make sure you scroll down to the end of this blog post to see some results I've gotten since implementing just a few of the things I learned!)
3 Facebook Tips from Phyllis Khare:
Check your Facebook page on your computer AND on mobile devices. On your mobile devices, check it using the official Facebook app, the phone's browser view of Facebook, and the newly-released Facebook Home app. It will look different! If you have text on your cover image, make sure it is readable on all devices. For example, my business name in my cover image appears lined up perfectly on my computer; but it is cut off on my iphone.


Digital K Facebook Page viewed on a Computer

Digital K Facebook Page viewed on an iphone

Size your images in your posts 600 pixels x 600 pixels. This is the size used in the new Facebook newsfeed and currently on mobile devices.
On your Facebook posts, keep the text (and optional link) within the first 350 characters before Facebook adds the "See More" link. Even better: create "teaser" text under 90 characters. People are busy and most are just skimming through their newsfeeds.
3 Facebook Tips from Amy Porterfield:
On your Facebook (personal) profile, include a link in your About section to your Facebook (business) page.


Link to your Facebook Page from your Profile

To create an active and engaged Facebook community, you need to know your audience really well. Do some research. For example, where do they shop? What do they like to do? What tools do they use? What are their favorite Facebook pages? If you don't know – ASK! You can create a survey – or it can be as simple as asking a question in a Facebook post.
Every time you post on Facebook, make sure you are doing one of these things: Educate, Entertain, or Empower.
 3 Facebook Tips from Andrea Vahl:
When running a Facebook ad, use 5-10% of your budget (for that ad) on split tests. Spend the rest of the budget on the ad that performs the best.
When doing a split test, consider testing these 4 things – but only change one thing at a time:

The ad title
The body of the ad
The image
Your targeting

The ad's click price goes up when you send people out of Facebook. Instead, have your opt-in as a Facebook tab instead of sending them to your website's opt-in page.
3 Facebook Tips from Isaac A. Wardell:
Plan for negative engagement on your Facebook page. Always respond to negative comments in a positive way. Isaac says, "You may not be perfect; but you have to be listening."
Don't sell all the time. Avoid having more than 10-20% of your Facebook posts be sales posts.
Motivate your fans to create your marketing materials for you. Hold a contest to get testimonials, photos, and stories about your product or service.
Was it worth travelling to Dallas for this summit? Absolutely! The Social Results Summit was jam-packed with valuable Facebook tips. (These tips were just a few of my favorites.) When I returned from the summit, I started putting some of the tips to good use while managing one of my client's Facebook pages.  Even though this particular business only has me post to their Facebook page a few times each week, we still saw a great improvement: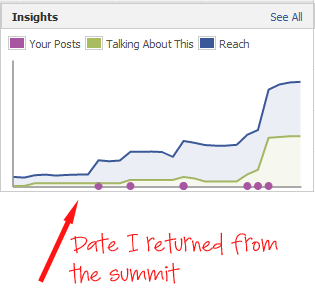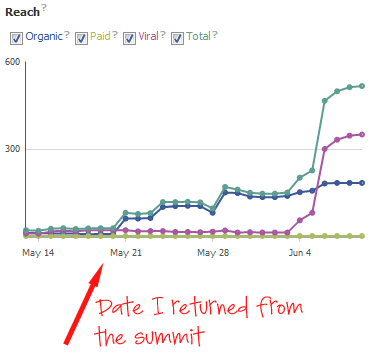 You can be sure that I will be keeping a close eye on whether they offer the Social Results Summit again next year! In the meantime, I will continue to take action on the things I've learned at the summit as well as continue to learn from these elite four Facebook strategists. Want to join me?
I also have a few openings available for my Facebook Page Management services. Contact me today to discuss what you need help with – and receive a free, no-obligation quote on our social media services.