Website Design and Branding for Author and Consultant
Project:
Website Redesign and Branding
Client:
Phyllis Khare is the co-author of Facebook Marketing All-In-One for Dummies and the author of Social Media Marketing eLearning Kit for Dummies. She's the Co-Founder of Social Media Manager School and Social Media Strategy School. Phyllis is also the social media strategist for Peaceful Media — consulting with thought-leader brands all over the world.
Project Goals:
New branding: logo, color scheme and fonts
An updated web design with modern design elements
Website layout streamlined to focus on her courses
Responsive and mobile-friendly
Website Features:
Paper.li feed
Drift live chat
Large photo banner that adjusts for varying screen sizes and devices
Parallax background image effects
Animated images and sections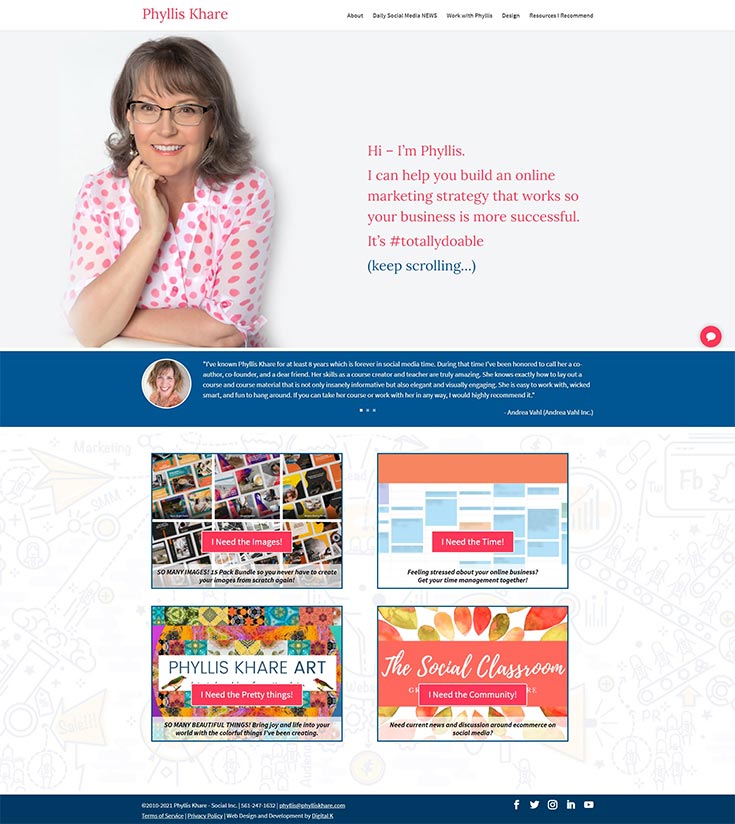 "It is a pure joy to work with Kelly in any capacity. She is steady (in the face of evolving ideas) and she is highly knowledgeable and professional. She has built several websites for me and my business partner that are lovely and do exactly what we envisioned them to do. I highly recommend Kelly for any type of online project. Her sense of style and artistic eye has definitely been a huge help in all our projects, too."
Like What You See?
Get a beautiful website that gets your business RESULTS!