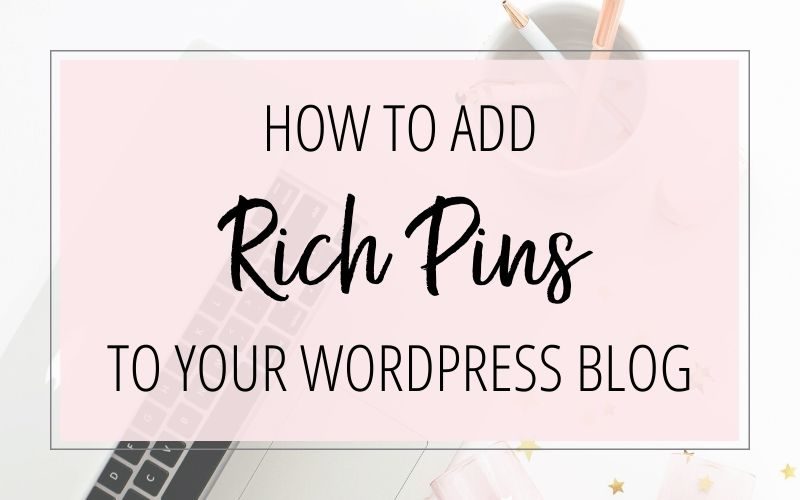 Pinterest Rich pins display additional information that Pinterest gets from your website. Rich pins give you (and your website!) credibility. Rich pins also help your pins stand out in the Pinterest newsfeed. To show you the difference between a rich pin versus a pin from a website that does not have rich pins enabled, take a look at the pins below.
Here's an example of a "regular" (non-rich) pin: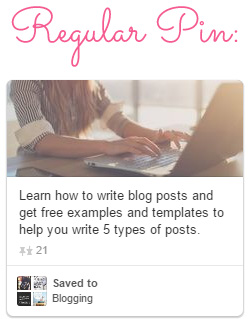 (Pin Source)
And here's an example of a rich pin: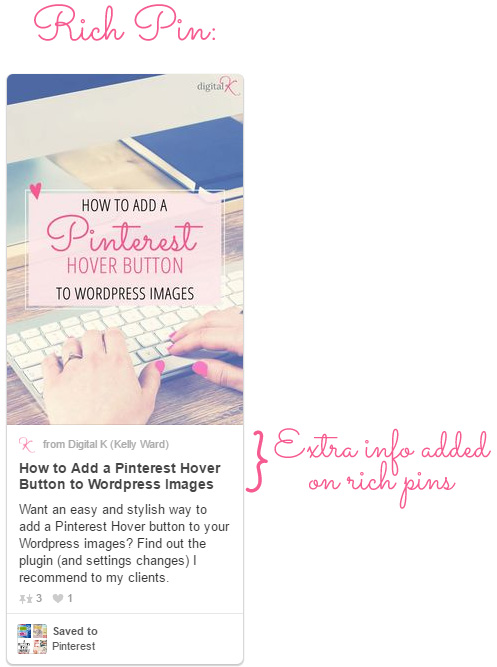 Notice how it displays extra information from my website, including my favicon (very helpful for branding!), my website title and the blog post title.
OK. So I bet you want in on the rich pin fun now, right? If you go to Pinterest's website to get instructions for how to enable rich pins on your blog posts, you will find a bunch of techy instructions and code. But don't freak out just yet! I got you, boo! There's a quick and easy way to do this without dealing with all the code!  It's seriously easy as pie. Well actually, it's easy as cupcakes. (Cupcakes are way easier to make than pie!) Read on, my friend…
Step 1: Get Your Website Ready
If you don't already have the Yoast SEO plugin installed on your WordPress blog, install and activate it! (Go here for more information on the free version of the plugin, which is what most of my clients use – or go here for the premium version of the plugin.)
Now go to SEO > Social in your WordPress admin area.
Click on the "Facebook" tab at the top. (Yes, Facebook! Trust me on this one.)
Make sure that "Open graph meta data" is enabled. (If it's not, go ahead and enable it and then click the "Save Changes" button.)

The Yoast SEO plugin will take care of all that techy code that Pinterest wants to see on your website. Woohoo!
Step 2: Let Pinterest Test it Out
Now go to Pinterest's Rich Pins Validator. Enter the URL (aka "website address") of a blog post from your website. (It doesn't matter which one you choose. And you only need to validate this one blog post to enable Rich Pins across your entire website.) Then click the "Validate" button.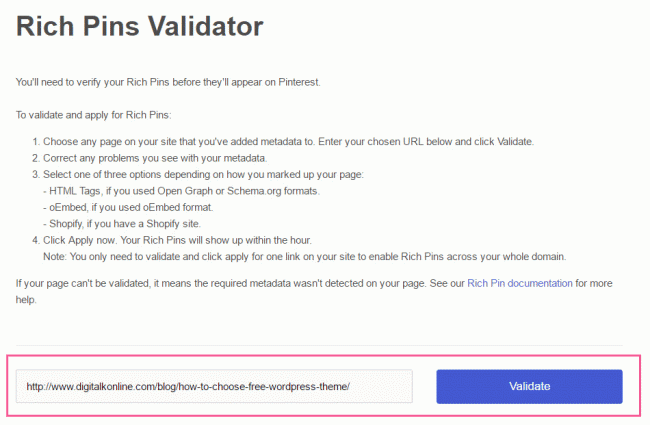 You should now see a confirmation message saying that your pins have been validated by Pinterest. It should also show your website name and favicon. (If it doesn't show a favicon, you can set that up on your website by following the instructions in this blog post.)
Step 3: Apply
Make sure "HTML tags" is selected and then click the "Apply now" button.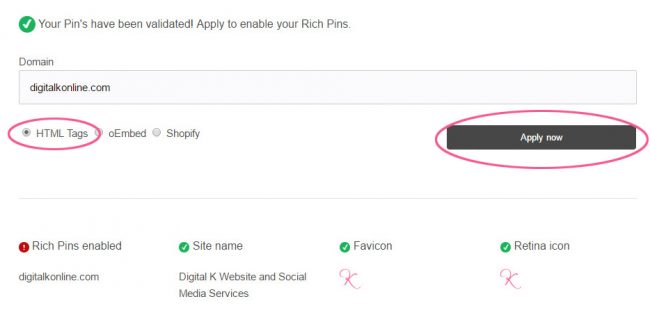 And…. You're done!
Now you just need to wait for Pinterest to approve the rich pins for your website. This used to take a week or longer; but lately it's only been taking a few minutes when I set this up for my clients. You'll get an email from Pinterest confirming that you're approved.
After you're approved, your pins from your blog will start appearing as Rich Pins when added to Pinterest. Existing pins that link back to your blog posts will also start appearing as Rich Pins (no need to repin them). But note: it might take up to 2 weeks for all of your Pins to appear as rich pins.
And that's it! Super easy, right? Let me know how it goes for you in the comments below.
Don't forget it… Pin it!