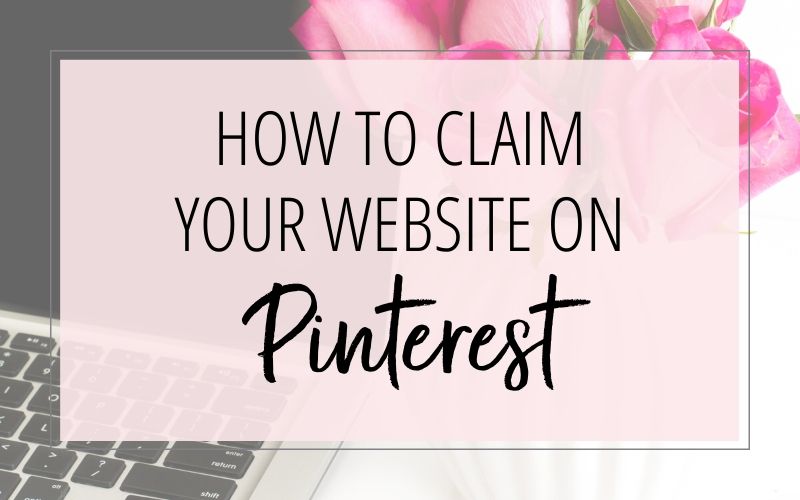 It's important that you confirm your website (or blog) on your Pinterest account. But before I show you how to do that, you might want to know why you should do that!
Why You Should Claim Your Website on Pinterest
When you confirm your website:
You get access to Pinterest Analytics. This is so helpful when you're trying to evaluate your progress on Pinterest. 
You can participate in Pinterest's Ad program.
Pinterest will display your profile picture on Pins that people saved from your website. This increases your visibility and credibility. (Win-Win!)
The "claimed" icon (a checkmark on a globe) will appear next to your website link on your Pinterest profile. This adds to your credibility as well.
How to Claim your Website on Pinterest
Note: The following instructions will work for most websites and blogs, including self-hosted WordPress blogs. Some exceptions are:
Instructions:
Login to your Pinterest Business account.
Click the "down arrow" icon in the top-right corner and then click on Settings.
Click Claim in the left-side menu.
Click the Claim button on the right side of Websites.
Click the Download button (at the bottom of the Upload HTML file section). A file will be downloaded on your computer. (Note: Do not rename this file!)
Click the Continue button.
Keep your browser window open – as we will be returning to this window after the following step.
Use FTP (or the File Manager in your web hosting account's control panel) to upload the HTML file to your website. You want to upload the file to the root of your website (not to a sub-folder). Usually this is the "public_html" directory; but in some cases it might be named "www" or "wwwroot". If you're unsure, just ask your web hosting provider.
Now go back to Pinterest in your browser window. Enter your website URL in the box and then click the

 

Verify button.
Pinterest will automatically check your website for that file. And your website will be claimed. (Read additional notes below.)
Notes about Claiming your Website on Pinterest:
You need a Pinterest Business account to claim your website.
After you have claimed your website or blog on your Pinterest account, you can remove the file (or the meta tag) from your website if you want to.
You can only claim your website on one Pinterest account. (If you have multiple Pinterest accounts, you can always remove the website from one Pinterest account and then add/claim it on your other Pinterest account.)
You can claim more than one website on your Pinterest account.
It may take up to 48 hours for your website data to show up in your Pinterest Analytics.
Don't forget it… Pin it!