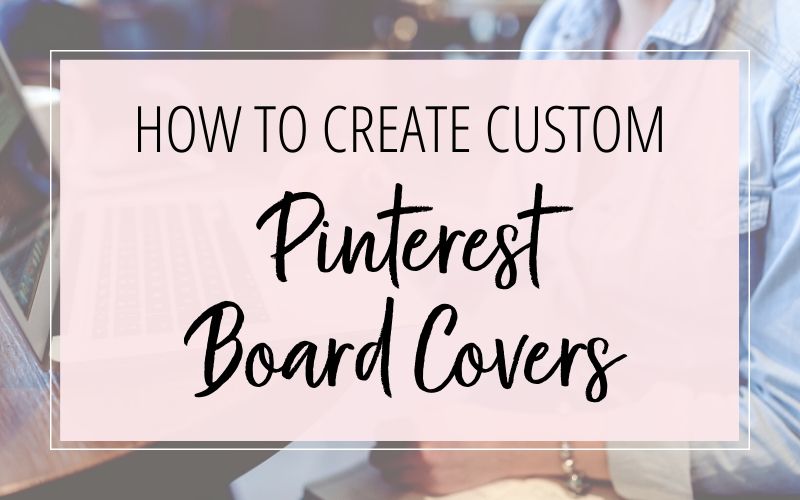 Have you noticed some Pinterest accounts have branded board covers? Pretty cool, right?!
But how do you create your own, without having them cut off, stretched, or both?
Don't worry, I've got this all figured out for you below. But first:
Why should I create custom Pinterest Board Covers?
I truly believe that custom board covers can help with your branding, encourage viewers to stay on your profile longer, and help increase the number of followers you get.
It allows you to make a great first impression with your branding. Incorporate your colors, fonts and any other graphical elements of your branding – so you have a cohesive look-and-feel that's similar to your website and other social media accounts.
Well-designed board covers give some peace to an otherwise busy view. They give your eyes a restful place to focus on amongst all the clutter.
If you include your board titles in your cover images, it's easier for someone to quickly look at the different boards you have and what types of things you're pinning – so they can decide if you are someone that they want to follow. They can spend less time clicking through all your boards (where they can easily get distracted and leave!) trying to figure out if they want to follow you – and instead make a quick decision – while they're viewing your profile – to follow you.
Here's an example of a Pinterest profile (on a computer) without custom board covers. See how busy, cluttered and distracting it is?

Now here's how it looks when you have custom board covers that have lots of "white space" and clear text:

And here's how it looks on the Pinterest app: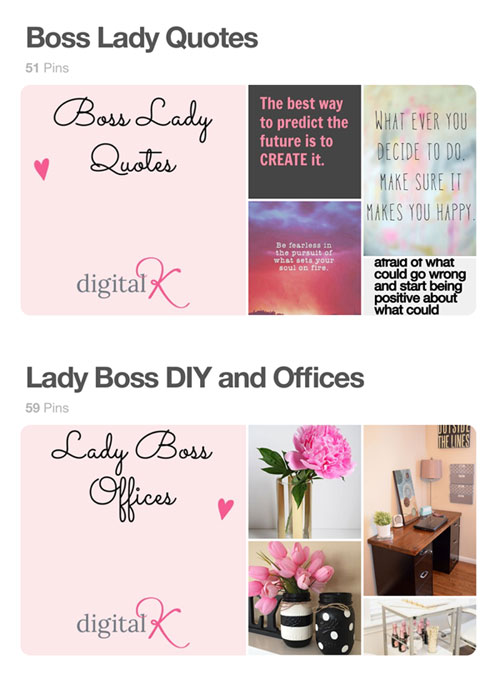 What do you think? Does this make you want to change your board covers? If so – keep reading!
How did the Board Covers Change with the Pinterest Redesign?
In 2016 Pinterest did a redesign and changed the dimensions of the board covers… twice! And they used to be different dimensions on desktops versus the app. But ever since November 2016, the cover image has thankfully remained the same size. On desktops the cover images are 200 pixels square. And the board covers on the Pinterest app are square as well. YAY! This makes it so much easier to design covers that fit on both desktops and the mobile app.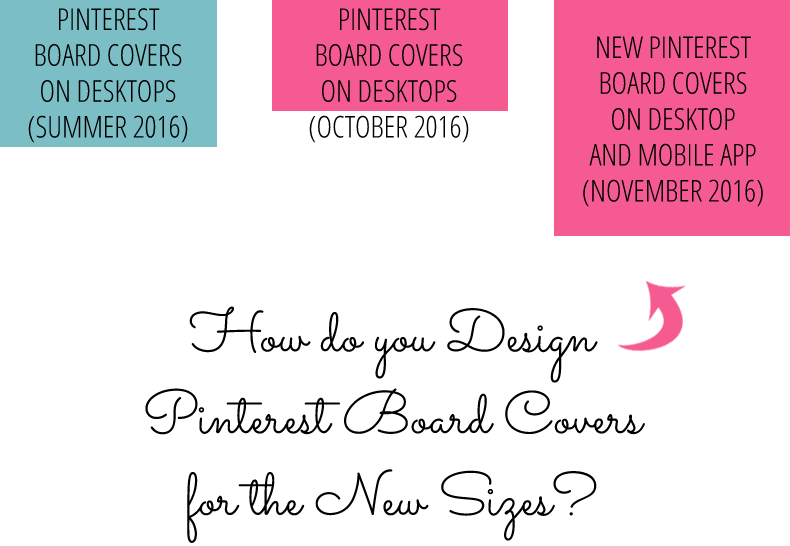 I spent a little time (OK, a lot of time!) testing this out and I came up with a solution for custom Pinterest board covers that look good on both desktops and mobile devices. And I am sharing all the deets (plus a free template!) right here.
Download my Pinterest Board Cover template:
Note: The template is a Photoshop template. You can open it with Photoshop, Photoshop Elements, or any other graphics program that opens PSD files. 
I value your privacy. You can learn about how I handle information I collect by viewing my Privacy Policy.
What Size Should I Create my Pinterest Board Covers?
I just finished updating all my board covers – and they look good on both desktop and mobile devices. (Yay!) Once I figured out the correct sizing and cropping, I made a template and it went pretty quick to make them all. You can download my template above – or you can make your own using these instructions:
Create a graphic that is 800 pixels wide by 800 pixels tall.
That's it! Woohoo! (Prior to November 2016, there were multiple steps to do this.)
Custom Pinterest Board Cover Template
You can download my Pinterest Board Cover template here.
The template is a Photoshop file; but you can also use many other graphics programs that open PSD files. To use the template:
Open the Pinterest Board Cover template file in your graphics program.
Create a new layer in the template. Make sure that layer is ABOVE the "Pinterest Board Cover Image" layer. Then start designing your new board cover.
Save your image as a JPG, GIF or PNG image file.
Since the Pinterest board covers are now square, you don't need to worry about your cover image getting cropped, as long as your use a square image for your board cover.

How do I use my Custom Pinterest Board Covers?
First you need to upload your custom board cover as a new pin.
On your Pinterest board, click on the "Save Pin" section.
Select "Your device".
Click the "Choose photo" button and select your custom board cover image.
Optionally enter a pin description. (I like to use the same description that I use for that board.) Then click the "Save" button for the board you want to use this cover for.

 

Optionally edit your pin and add a link to your website.
Now let's use that image as your new Pinterest board cover.
Click the Edit icon at the top.
When the "Edit your board" window appears: In the "Cover" section click the "Change" button.

(Note: You will not see the cover option until you have a few pins added to your board.)

Your new cover image should appear.

NOTE: The preview area is NOT accurately showing what your board cover will actually be. So just ignore the fact that it looks cropped here.

If you followed my instructions and made your board cover square – you won't need to click-and-drag it to pick where you want it to be cropped. It will automatically be the correct size and position — even though the Preview window is showing it cropped smaller.

Click the "Save Changes" button.
Click the "Save" button.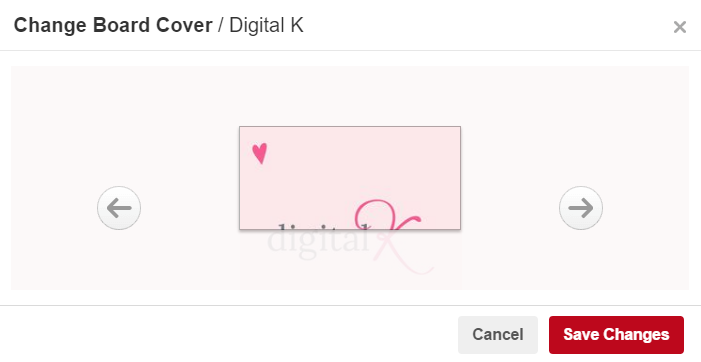 Now go back to your main Profile screen and see if your board cover changed successfully. You may need to refresh your browser screen to see the change. If your cover didn't change, just repeat the steps again for editing the board cover. (You don't have to upload the image again.) I noticed that sometimes the board cover change doesn't save – so you might have to do this a couple (or a few!) times before Pinterest actually changes your cover.
Why are my board covers fuzzy, stretched and distorted?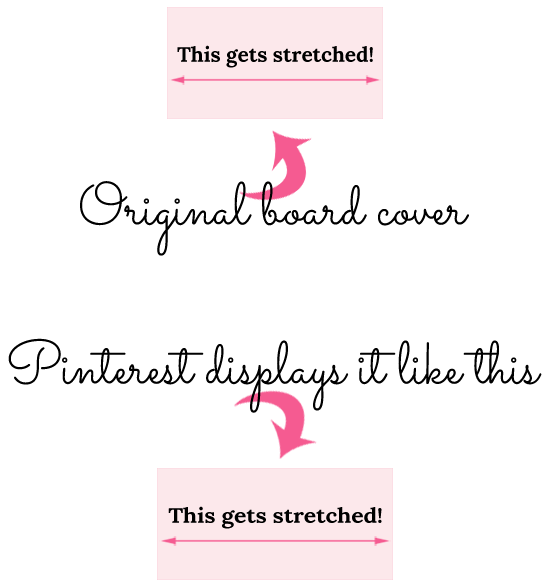 Pinterest won't stretch your cover images as long as you upload an image that is at least 564 pixels square.
Why can't I Reposition my Taller Pins as Board Covers?
I noticed that when you try to use a longer pin as your board cover – and reposition it to where you want the cover to be cropped, Pinterest isn't accurately displaying your cover where you positioned it. This is why I recommend that you use SQUARE images as your board covers.
Don't forget it… Pin it!