A few weeks ago, Facebook announced that they were rolling out a new feature: the ability to embed Facebook posts on your website or blog. At first this feature was only available to a select group of news publishers, such as Huffington Post, CNN, and Mashable. But as of this week – it is now available to everyone – you and me included! Embedded Facebook Posts display just like they do on your Facebook page, including displaying images, videos, hashtags, and text content. In addition, your website/blog visitors can interact with the embedded posts by:
Liking or sharing the post – right from your website
Liking the Facebook Page (or following the Facebook profile)
Visiting the Facebook Page or Profile
Adding a comment to the Post
Viewing the Post's comments and shares
Embedding the post into their own website or blog. (Click the drop down next to the "Like Page" or "Follow" button to access the embed code.)
Feel free to try out any of these features on this embedded post:
Here's How to Embed Facebook Posts on Your Website or Blog:
Note: Only public posts from Facebook Pages and Profiles can be embedded. To check if the post is public, look at the small icon next to the post's date at the top of the post. If you see a globe icon, that means the post is public – and you're good to go!

Click on the arrow icon that appears in the top right corner of the Facebook post. Then select "Embed Post" from the drop-down menu that appears.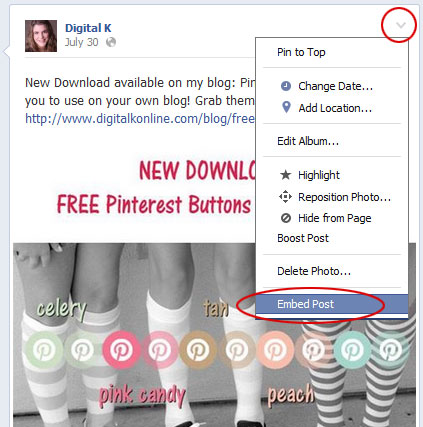 A popup box will appear with the code to embed your post. Copy the code at the top of the box and paste it into your web page's (or blog post's) HTML code.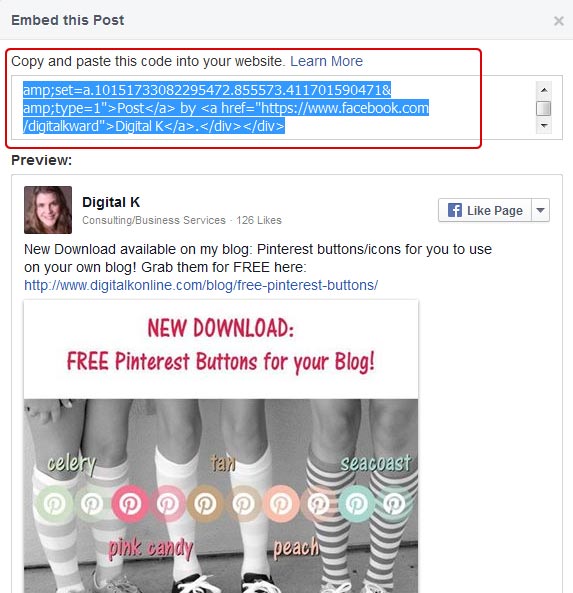 A Few Notes and Tips about Embedded Facebook Posts:
As mentioned above, only Public posts can be embedded.
If you embed a post and later the author deletes the post or changes it so it's no longer a public post, the post will no longer appear on your website. In its place will be a message saying that it's no longer available.
You cannot change the size of the embedded post. The size of the Facebook post on your web page will be the same size as it's shown on Facebook.
If you embed a very long post, it will get truncated on your web page. However, your website visitors can click on "see more" to display the full post on your web page.
Videos in Embedded Posts can play directly on your web site.
If you are having trouble embedding a post on your WordPress blog, try adding the code right before you save/publish your post — before switching back to the "Visual" view in WordPress. When you switch to the Visual view it can mess up the embedded code.
If you are currently logged into Facebook and using it as a Facebook PAGE (not your profile), you won't see the embedded Facebook Posts. Instead you'll see a box with your Facebook profile picture (as shown below). Simply click on "Switch" to switch to your Facebook profile – and you will then see the embedded post.
Will you embed Facebook Posts on your website or blog? Leave a comment letting me know how you plan to make use of this new Facebook feature!