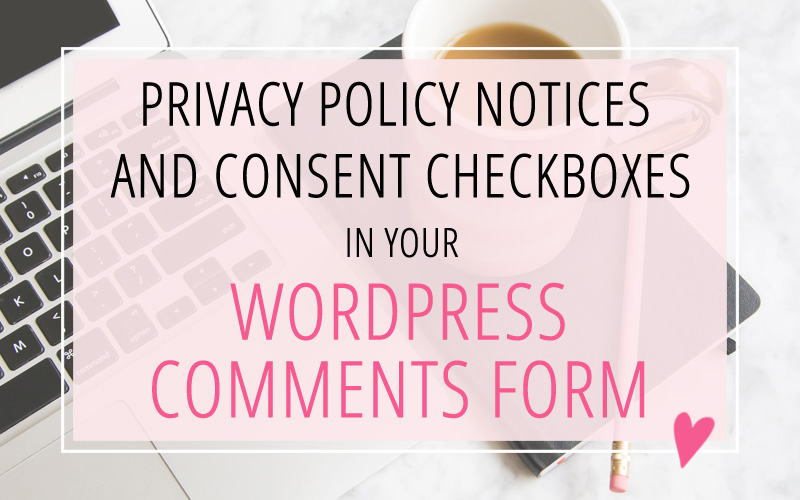 Note: This post is part of a blog series about how to get your website setup in order to comply with the recent GDPR regulations. You can find the original article where I walk you through the different things I considered in my GDPR-compliant quest here: Online Entrepreneurs and GDPR: How to Get This Stuff Done!
There are some new features that have been released in the past few days in order to help website owners with modifying their WordPress blog comments forms as they deal with privacy policies, data consent, and cookies. Here are 3 different features you may want to add to your website blog comments: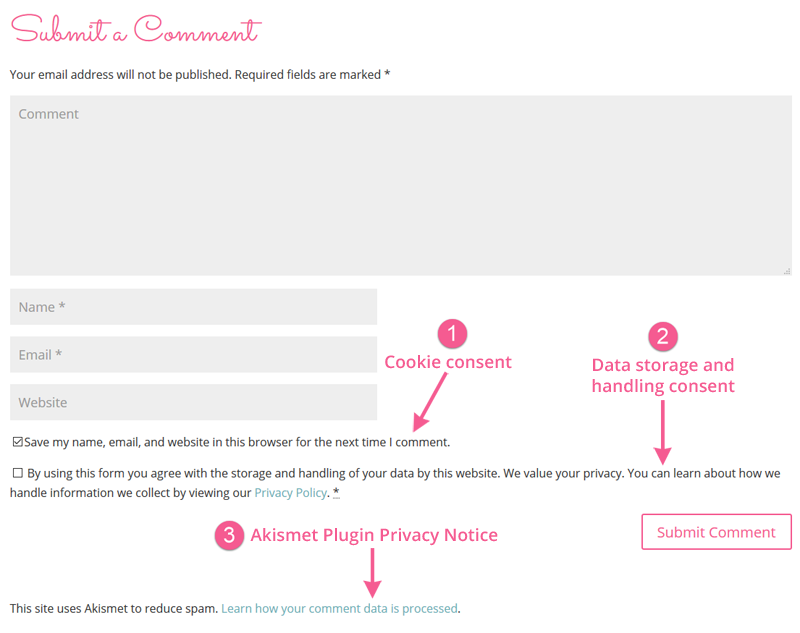 Below are step-by-step instructions for how to setup each of these things on your WordPress blog comments form. You can pick and choose which one(s) you want to use on your own website. Which feature(s) you want or need to enable will vary from website to website – depending on the regulations of where you live, recommendations from your lawyer, how you are handling your blog comments, etc. If you need advice about how to comply with regulations on cookies and data privacy, please consult with an attorney. I am not giving you legal advice on which features you should use — but instead am giving you the instructions for how to add these features to your website.
Let's get started!
Data Storage/Handling Consent
You can use the WP GDPR Compliance plugin to add a data storage and handling consent checkbox (plus a link to your Privacy Policy!) to your blog comments form. By ticking this checkbox your website visitors consent to you handling their personal data that they enter in this form. (Note: This plugin can also be used for adding a consent checkbox to your contact forms.)

Here's how to get this setup:
Install and activate the WP GDPR Compliance plugin on your website.
In your WordPress admin area, go to Tools > WP GDPR Compliance.
Click on the Integration tab at the top.
Enable the WordPress Comments section.
Optional: Edit the Checkbox text (the text you want to appear next to the checkbox).
Optional: Edit the Error message (the text that appears if someone tries to submit their comment without checking this checkbox)
Click the Save Changes button to save your settings.

If you want to include a link to your privacy policy in your checkbox:
Click on the Settings tab at the top of your WP GDPR Compliance plugin settings.
Select your Privacy Policy web page from the drop-down box.
Enter the Link text (the text you want to use for the link to your privacy policy).
Click the Save Changes button to save your settings.

Then go back to the Integration tab at the top of your WP GDPR Compliance plugin settings
Use the code %privacy_policy% in your Checkbox text to link to your Privacy Policy page.
Click the Save Changes button to save your settings.