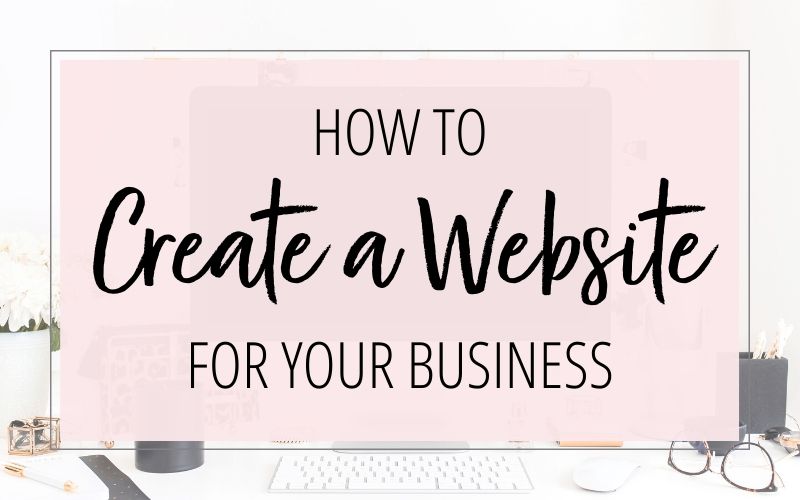 If creating a website for your business is at the top of your to-do list this year, you probably have some questions:
How do you even create a website?
Where do you get started?
What should you be thinking about?
What should you avoid?
How can you make sure the website helps your business?
Sounds super obvious; but if it was, you'd be cuddling up with a soft blanket, watching Netflix and sippin' on your favorite drink instead of reading this article. Am I right?
So let's break it down. Here are the 5 steps you should do if you want to create a website that helps your business (and doesn't just look pretty).
Step 1: Strategically plan out your website to meet your business goals.
This is the most important step – because this will help you get RESULTS from your website.
So you can say hello to more clients and more moolah!
You need to first get very clear on your business. This includes:
The services and products you provide – and how they help your customers/clients
What makes your business different from others in your industry
What your business goals are – and how your website can help you accomplish those goals
A good understanding of your clients and customers (and what they really, really want and need)
Then you can take all of that information and use it as a guide for what content you should include on your website, how that content should be organized, and how your website should be designed – so you can attract the types of clients you want to work with and then convert them into leads and customers/clients.
Step 2: Setup and learn the essentials of your website platform.
Whether you choose WordPress (my favorite!), SquareSpace, or any other website platform – I recommend that you learn the basics of how to work with it, before you start creating your website.
It can be very overwhelming getting started working on your website design and pages, when you don't know how to use the website platform first. At the very minimum, you'll want to know
how to change important website settings
how to setup your website navigation menu
how to create and edit web pages and blog posts – including adding text, images and links
Step 3: Choose, install and learn the essentials of your pre-made website or template.
Choose your Starting Point:
Unless you're a web designer or you have experience with designing and creating websites from scratch, I highly recommend that you use some type of pre-made website or a website template as the "starting point" for your new website. This can be used to speed up the process for creating a new website versus trying to create something from scratch.
Now, not all pre-made websites and templates are created equal. Make sure you choose one that:
has plenty of options for customizing
was specifically created for non-designers/developers – so that you don't need to be a coding expert in order to work with it
offers easy-to-understand and easy-to-access support for when you have questions
Choose wisely – and this will save you a lot of time and frustration.
I've seen many business owners get extremely frustrated with their website templates – and many end up hiring me to fix their website or create a brand new website for them – because they can't figure out how to use the template.
That's exactly why I created my customizable WordPress websites. Each website allows for a ton of customization (changing colors, changing fonts, moving things around on the web pages, etc.) and are built in a way that makes it easy-peasy to update your website yourself.
Install the website or template and learn how to use it:
Just like I recommend learning the basics of your website platform first – I also recommend that you get familiar with your website or template before you start creating your website. The purpose of this step  is to get you feeling comfortable with the website/template so that when you're ready to start creating your website, you aren't too overwhelmed with it.

My favorite website theme/template is Divi. It's so much more than just a WordPress theme… it's a website building platform that gives you soooo many more options and more flexibility than most themes and templates. I use the Divi theme on all of my customizable WordPress websites because it allows for creative designs and functionality – and my clients have found it very easy to use as well.
Step 4: Customize the web design so your website is unique to your brand.
No one wants a cookie-cutter website. And most likely your website or template isn't going to use the exact colors and design that works for your business. So you'll probably want to tweak the design a little bit (or a lot!) so that it's unique to your brand.
How easy or difficult this step is, really depends on the website/template that you choose. Most pre-made websites and templates allow for at least a little bit of design customization. For themes that don't offer a lot of customization options, going beyond the basics may require some coding knowledge. That's why I recommend you choose a theme that offers plenty of built-in customization options. (See Step 3!)
Step 5: Add your content.
Finally, you can create your web pages, add your content, and setup your website navigation. This is where your website really comes to life.
Your content includes your text, images, downloads, contact forms, email opt-ins, etc.  Make sure to include content that is aligned with your business goals, your website goals, and what your clients/customers would be attracted to and find helpful.
Those are the 5 steps you should do if you want to create a website in 2020. I know that list might sound overwhelming, which is why I created my
Do It Right Website Bundle
.
It's for anyone who struggles with DIY-ing your website; but doesn't have a "custom design" budget to hire a web designer.
It's Do-It-Yourself combined with Done-For-You. It's Done With You! And it's done right.
The bundle includes:
A 5-week, comprehensive online course that teaches you how to do the 5 steps I listed above. The course includes videos and worksheets to guide you through each step. And it also includes my tips and recommendations for what to do before and after you launch your new website.
A customize-able WordPress website to use as your "starting point" for your new website. Each website allows for a ton of customization (changing colors, changing fonts, moving things around on the web pages, etc.) and are built in a way that makes it easy-peasy to update your website yourself.
One year of web hosting. (I'll even install and setup WordPress and your website for you!)
A private Facebook Group where you can ask questions, get additional help from me, and get feedback
Want in?
If you are ready to create your own swoon-worthy, client-attracting website and no longer want to feel frustrated and overwhelmed with working on your website:
Don't forget it… Pin it!