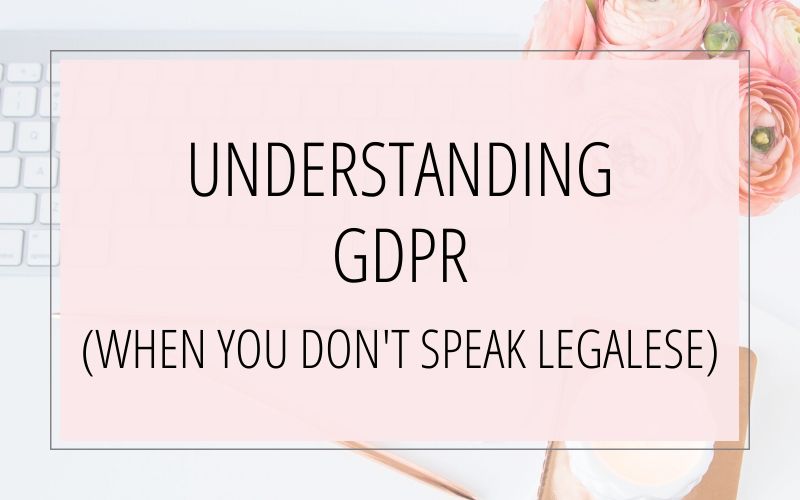 I'm guessing you've been receiving quite a few emails lately asking you to confirm if you want to remain on their email newsletter. You've probably gotten some emails about privacy policy updates too. And you may have even heard (repeatedly) about something called "GDPR". You may be wondering what is going on – and if it affects you?  Or… you might have read a bit about it; but it just sounds like a bunch of "gibberish" to you. Don't worry, you're not the only one! That's why I wrote this blog post. So keep on reading! But first… I have to put this in here:
Disclaimer: I am not a lawyer or data protection expert – and this blog post does not include legal advice. If you have questions or concerns about GDPR or if you need legal advice about how to comply with the GDPR, please consult with an attorney.
Disclosure: This post contains affiliate links for products or services that I personally use and highly recommend. If you click on the link and make a purchase, I may receive a commission (at no additional cost to you). I'll probably buy a coffee with it – which I promise to drink while creating more helpful content like this. One more thing: I only recommend products or services I believe will be good for my readers and clients. (I don't recommend junk; that's not how I roll.)
OK! Now that that's out of the way… let's get to the good stuff:
What is GDPR? 
On May 25, 2018, a new European Union (EU) data protection law, the General Data Protection Regulation (GDPR), takes effect. The GDPR gives individuals in the EU more control over how their data is used and places specific requirements on businesses to comply.
You might be thinking that because you're not in the EU, this doesn't apply to you. Well, unfortunately that's not true. If you have a client, customer or even a newsletter subscriber who is from the EU… this does apply to you too!
Understanding GDPR (when you don't speak legalese)
I've done a LOT of research over the past few weeks on how to comply with the new GDPR regulations. I've watched webinars, read blog posts and articles, joined Facebook groups, enrolled in courses… and pretty much soaked up all I can on this topic. What I've found though, is that most information is either way too difficult to understand — or it doesn't give you the step-by-step instructions for what you need to do! But I have found a few really great resources that do help with this. And to save you some time (and pulled-out hair!) I want to share those resources with you.
The first resource I'd recommend is Bobby Klinck. He is an intellectual property attorney AND an online entrepreneur. I took some GDPR training from him and I also purchased his Website Legal Forms Package, which was recently updated for GDPR.
Some other resources that I would recommend reading through are:
And finally, I wrote a blog post documenting everything I'm doing for my business (and some things I'm doing for my clients too!) that will give you some step-by-step instructions on how to implement some of these requirements on your website and in your email newsletter service. So if you're thinking you want some guidance with WordPress, ConvertKit, MailChimp (and more!) – you can check out that blog post here: Online Entrepreneurs and GDPR: How to Get This Stuff Done! (Want to get an email notification when I publish new blog posts? Sign up for my newsletter!)
It may seem overwhelming when you start to think about all the factors that come into play when you're trying to understand GDPR. So hopefully these resources help! If you have come across any other helpful resources (that don't require a law degree to understand) – feel free to leave them in the comments below!
Don't forget it… Pin it!