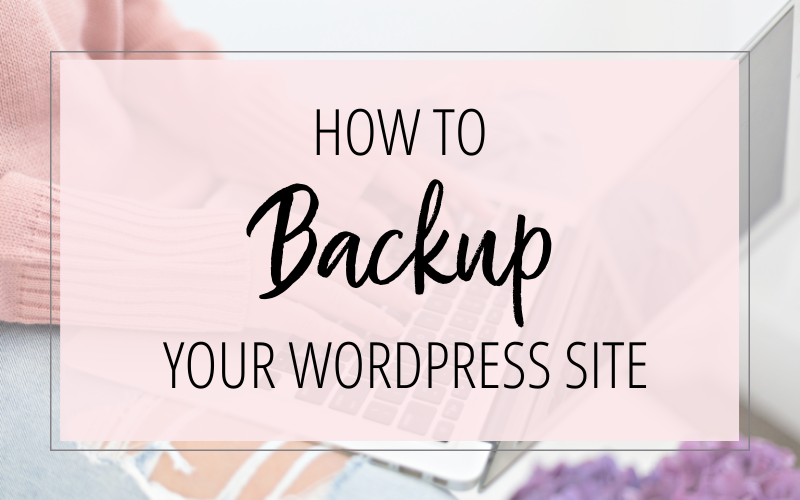 Disclosure: This post contains affiliate links for products or services that I personally use and highly recommend. If you click on the link and make a purchase, I may receive a commission, at no additional cost to you. I only recommend products or services I believe will be good for my readers and clients. (I don't recommend junk; that's not how I roll.)
Have you ever worked really, really hard on something on your computer… and lost it because you didn't have a backup of it saved? Well, the same scenario applies to your WordPress website. You spent a lot of time, energy and money to create your website. But what happens if your website gets messed up from a recent update you've done… or your website gets hacked… or there's a data loss on your web hosting account? 
Creating regular backups is one of the best ways to protect your website. This way, if anything goes wrong with your website in the future, you have recent backups available to restore your website.
Here are three key things you need to think about with your website backups:
Create a Regular Backup Schedule.
Your backup schedule will vary depending on how often you update your website and the type of audience you serve. For the average small business WordPress website, a full backup once per week may be sufficient. For ecommerce sites and websites that are updated frequently, daily backups may be a much better recommendation.
Don't know which schedule to choose? Think about what would happen if you needed to restore your website from a backup TODAY. Would a backup from a week ago be acceptable to you? Or would you feel better using a backup from yesterday?
I update the content of my website at least once a week (for example, by writing a new blog post). But I also accept orders for digital products on my website. And those orders are part of my website data that gets backed up. So I choose to do a daily backup schedule.
Create Multiple Sets of Website Backups.
"Two is One. One is None."
Have you ever heard that saying? It means you should always have a backup plan. (No pun intended.)
So how does that apply to your website backups? While backups are included with many hosting plans, I recommend creating a second set of backups, just to be on the safe side.
If you have one method of website backups – but it fails or the backup files are corrupt or get deleted… then you're out of luck. By having a second set of backups, you're giving yourself some insurance that you'll always have a backup in case you need it.
Store Your Website Backups Off Site.
At least one set of your website backups should be stored "off site" – in a different physical location from where your website files are. I recommend using an external service, like Amazon's S3 platform, Google Drive or Dropbox. This way you can retrieve your backups even if your web hosting account is inaccessible.
Website Backup Options
Now that you know what you need for your website backups…
Let's move on to how to get this done! 
Here are three different options for creating backups of your WordPress site.
*Remember you should have two sets of backups! So don't pick just one of these options.*
Web Hosting Backups
Some web hosting plans include daily backups of your account. You can certainly use those as one set of your backups. Just check to make sure:
Your web host is in fact creating and saving regular backups for you and
They are saving them for a sufficient amount of time (for example, daily backups for 30 days).
Some other nice backup features to look for with your web host are:
You have access to the backups in case you need to restore your website. (Some web hosts save backups but don't make them readily available to you. And some charge you a fee to restore your website from one of their backups.)
They store the backups offsite.
You're able to create your own backups whenever you want (aka "on-demand backups"). This is helpful when you're planning on making a big change to your website. For example, if you're updating your theme or plugins… or installing a new plugin, it's a good idea to create a backup of your website first. That way if the change doesn't go as planned, you can restore your website back to the point right before you worked on the website.
Easy website restores. Can you just click a button and your website is restored from your backup? Or do you need to download the backup and manually update your website by uploading all the files in the backup and then manually restore your database?
One of the main reasons I use Flywheel for my web hosting is because they have ALL of the features I mentioned above. If your web host doesn't have all of these features, you can use a plugin or pay for a service to get you those missing features. But I like having the features included in my web hosting so that's one set of backups that I don't have to worry about finding a plugin for or doing myself.
Website Backup Plugins
You can use a WordPress plugin to create your own website backups.
I recommend the UpdraftPlus plugin. It allows you to create a complete backup of your WordPress site and store it on the cloud or download to your computer. The plugin supports scheduled backups as well as on-demand backups. And it also allows you to easily restore backups directly from your WordPress admin panel. There is a free version of the UpdraftPlus plugin, as well as a premium version that includes mores features and options.
Another plugin option is to use Jetpack Backups. You can easily setup backups and restore your website from backups with just a few clicks. As of October 2020, the JetPack Backups service costs $10/month.
Whichever plugin you choose, you should regularly check in on your backups to make sure the plugin you're using is continuing to run successfully.
Website Backup Service
Have someone else take care of your backups for you! You can sign up for a website maintenance plan that includes backups as part of the service. This is a good option if you don't have the time to take care of regular backups yourself – or don't want to deal with managing a backup plugin on your website.
It may seem overwhelming when you start to think about everything that's involved with maintaining and protecting your website. That's why I created my Website TLC plans. Each plan include a web hosting account, website backups, plus a ton of additional services that you can take off your to-do list!
Don't forget it… Pin it!