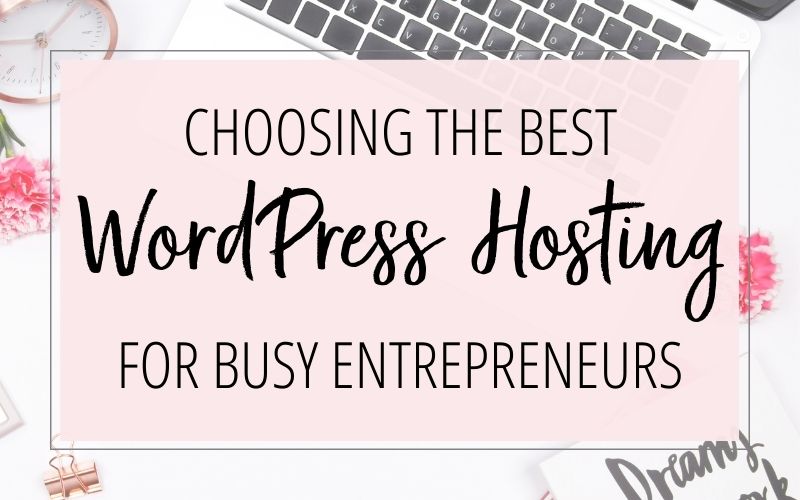 Disclosure: This post contains affiliate links for products or services that I personally use and highly recommend. If you click on the link and make a purchase, I may receive a commission, at no additional cost to you. I only recommend products or services I believe will be good for my readers and clients. (I don't recommend junk; that's not how I roll.)
Every website needs web hosting. Without it, your website wouldn't be visible online. A web hosting account allows you to rent space on a computer (a web server) where you can store all your website files. The web server connects visitors to your website from anywhere in the world.
So yes, you will need to purchase a web hosting account for your WordPress website. Fortunately, there are a ton of web hosting providers available. But unfortunately, not every web hosting company offers the same quality and service.
You may be tempted to go for the cheapest web hosting plan you can find; but be careful. Many of the cheaper web hosts often lack essential features, offer little or poor support, and can be magnets for getting hacked. Performance issues (for example: slow website load times) can also be a common occurrence on budget web hosting.
Your website's hosting account is one of the most important options that business owners shouldn't skimp on.
If your monthly hosting bill costs less than a
Salted Caramel Mocha (Mmmmm!),
you most likely should upgrade to a better web host.
What to Look for in WordPress Hosting:
1. Supports WordPress
Since WordPress is the most popular content management system in the world, most hosting companies support it. But it's worth checking with them, just to make sure.
Even better: some hosting providers offer web hosting plans that are optimized specifically for WordPress websites. This can help your site run faster and it may include additional security features too.
2. Features
Most hosting companies have a range of web hosting packages, so you can pick one that meets your needs in terms of how much website traffic you think you'll get and the storage space you need. But you'll also want to see if the packages include any other important features. For example: daily website backups, an SSL certificate, WordPress core updates, and extra security measures to prevent, detect and fix your website if it gets hacked.
3. Reliability
You definitely don't want your site to suffer from long or frequent periods of downtime, so always check the hosting company's uptime statistics. You can also search online for customer reviews of hosting companies.
4. Customer Support
If you're just starting out with a new WordPress site you may have some questions, so check what support is offered by your hosting company before you buy. Look at the support hours, especially if they are not available 24 hours a day and are in a different time zone than you. Also check if they offer a range of ways to get support, for example by email, by phone or live chat. And will you have a dedicated person that you always contact with questions or issues – or will it be a different support person each time you contact them?
Don't forget it… Pin it!