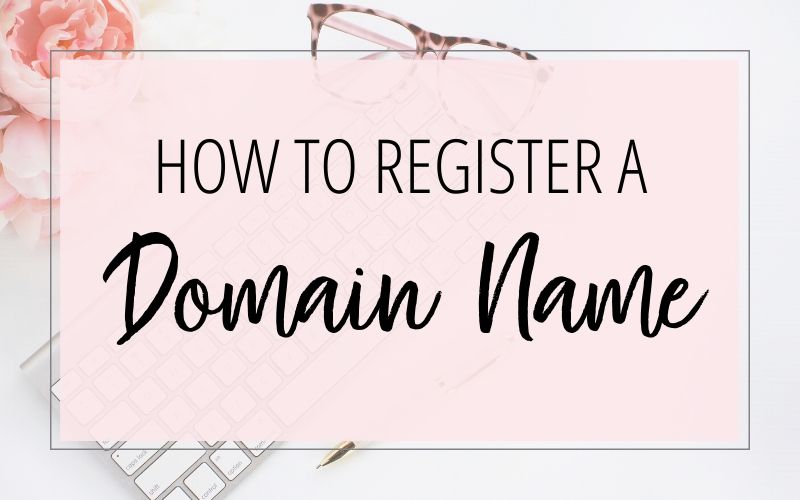 When it comes to having your own website, the first thing you need is a website name (AKA a website address or a domain name or a URL). This is the address in your browser's bar at the top that tells you what website you're viewing.  In other words, it's the part after the http://. So in my case, my domain name is kellyward.com.
In this blog post I show you how to easily register a domain name for your website. If you prefer to watch a video of this tutorial, I have that training available below as well.
OK, so let's buy a domain name! First you need to decide where you're going to register your domain name. Now a lot of web hosting companies will have an offer where you can get a free year of your domain name registration when you sign up for a hosting account. But I actually don't recommend that you do that. I recommend that you register your domain name through a separate domain registrar (separate from your web hosting account). That way if you ever decide to change web hosts in the future, it's easier to make that switch.
There are many different domain registrars where you can register your domain name. There two that I recommend are NameCheap.com and GoDaddy.com. In the video below I show you how to register a domain name at NameCheap.com – but if you prefer to use GoDaddy.com, the process is very similar.
The first thing you need to do is go to your domain name registrar's website and search for the domain name that you're interested in buying. We first need to see if it's available – or if someone else has already registered it.
If the domain name you want isn't available (because it's already registered by someone else), it will give you some suggestions for some other domain extensions that are available to purchase. Domain extensions are the end part of your domain name. For example, .com, .biz, .co, etc. And different domain registrars have different extensions available too. For the most part, they all have the most common extensions available, like .com, .net, .info, and .co – but some of them have additional extensions available as well.
When you find an available domain name that you want to purchase, you can add it to your shopping cart and then go through the checkout process. You can purchase your domain name for one year – or for multiple years. And you'll need to keep renewing it if you want to continue to use that domain name year after year.
Once you've purchased it, you now are the proud owner of your own domain name!
A word of caution:  Most domain registration companies will also offer very cheap web hosting plans. But just like I don't recommend getting your domain name through your web hosting company – I also don't recommend getting your web hosting from your domain registrar. The cheap web hosting offered through domain registrars tends to result in slow-loading websites and not have as good of customer service and features. So register your domain name from a different company than where you get your web hosting (and vice versa).
Don't forget it… Pin it!