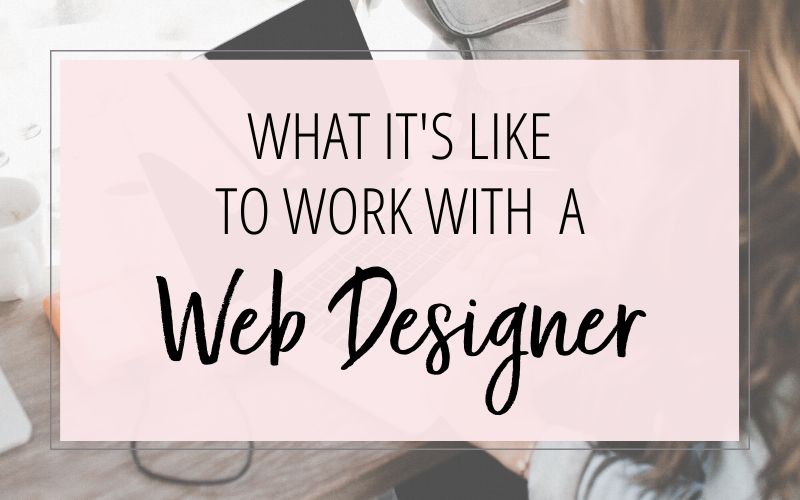 "I don't know what you do or how you work . . . but sign me up!" — said no one.
If you're anything like me, you might worry about working with someone new, whether it be:
a hair stylist ("What's my hair going to look like when she's done?")
a new car repair shop ("How can I trust that they're recommending repairs that I really need?")
or a business coach ("Is this investment going to be worth it?")
But I find that a lot of my worries are laid to rest after I get more information on what it's going to be like working with them. And that's why I wrote this blog post:
to help ease your mind about what it's like to work with a web designer.
Your Biggest Fears
(And How to Get Rid of Them)
Signing up to work with a web designer can be a scary leap of faith. Here are a few common fears – and what you can do to feel better about them.
What if I don't like the website design?
If you're paying for a one-of-a-kind, custom web design… how do you know you'll like the design your web designer comes up with? Here are a few suggestions for things to do before you choose your designer:
Check out their website design portfolio. Do you like what you see? Most designers have a certain style with their design. If you like their recent work, most likely you'll be happy with your project as well.
Ask how many design revisions you get. If you don't like their first design – will they start out with designing a brand new web design for you? Do they allow you to give them feedback and ask for revisions to the design? What if you still don't like the design after their included number of revisions; will they let you pay for additional revisions? Knowing your web designer's policy on design revisions can really help ease your mind.
What if the web designer is hard to work with?
If you have a good working relationship with your designer, your project will go much smoother – and be more enjoyable for both of you as well.
Read testimonials on their website. See if people mention how it was working with that designer.
Even better? If you know someone that previously worked with that designer, ask them for their feedback about their experience working with them.
Jump on a consult call. If you have questions about working together, see if the designer will chat with you briefly to address some of your questions. Then trust your gut based on how that conversation went. Did you feel like they were being honest? Did you trust them? Did they answer your questions and concerns?
Do I have enough time to work on this project right now?
Creating a new website can be a time-intensive process. Ask your designer about their project timeline. Ask them what is expected of you – before and during the project. Are there any scheduled meetings or phone calls you need to attend? What kind of turnaround time do they expect you to meet?
Once you know what is expected of you, check your schedule and make sure you will be available when needed during the project. Have a busy schedule? Consider asking your designer to extend the timeline before the project even begins. Or you can ask for a later start date, to give yourself enough time to collect all the needed materials before the project begins.
I am not very "techy". What if I can't figure out how to use my website?
Ask your designer if they offer any training on how to use your website after it is completed. Do they just hand it over to you and you're on your own? Do they offer any training materials or tutorials? Make sure if you need additional training, it is available to you in a format that will most help you.
The Web Design Process
 Every web designer has their own, unique process. I highly recommend asking your web designer about their process before you book with them. Make sure:
You understand the process – and you feel comfortable with it.
The process includes a website strategy and/or planning phase – so you can make sure your website is created for the purpose of helping your business grow. (Your website should not just look pretty! Make it work for you and your business.)
Here is my web design process – so you can have a good feel for what it's like to work with me… and you can see if you think we'd be a good fit to work together.
Project Inquiry & Booking
The first step is to select the website design package that fits your website needs, timeline and budget.
Then schedule a brief phone call so we can discuss your website project. And I will answer any questions you have about working together.
Following our phone call, I will send you a proposal and contract for you to accept and sign. And you'll pay your deposit to reserve your spot in my schedule. I work with a limited number of clients at a time because I believe in making each client feel that they are taken care of.
Project Prep Work
We'll get things in place so I can hit the ground running on Day 1 of your project! You'll send me all of your website materials (your logo, your content, any images or downloadable files you want to include, etc.). To help you with this step, I have a Client Portal where you can easily submit your content online.
Website Design & Development
During your project week(s), I work on designing and creating your website. And you get to sit back, relax, and watch it all come together! You'll be given access to view the website as I am working on it. And you'll have the opportunity to provide your feedback and request revisions. And then your new website launches!
After Your Website Launch
I provide you with 2 weeks of website updates and email support for any questions you have after your website launches. If you need additional assistance from me after those 2 weeks, I do offer ongoing website maintenance services.
Looking for a beautiful website that gets your business RESULTS?
My clients are raising their rates, getting more website visitors, building their newsletter lists, and converting more subscribers into clients. These are just some of the side effects my clients have seen after working with me. Want these types of results too? See if we're a good fit to work together:
Don't forget it… Pin it!