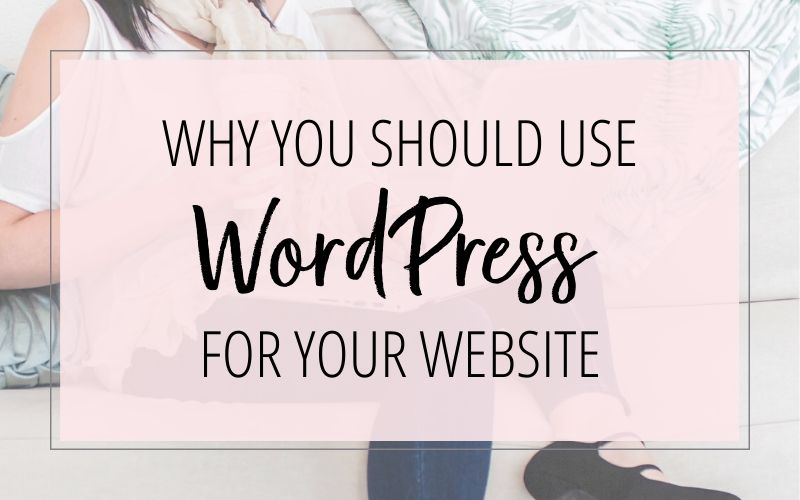 This post was originally published on August 5, 2016 and was updated on August 21, 2020.
Disclosure: This post contains affiliate links for products or services that I personally use and highly recommend. If you click on the link and make a purchase, I may receive a commission, at no additional cost to you. I only recommend products or services I believe will be good for my readers and clients. (I don't recommend junk; that's not how I roll.)
If you're wondering why you should use WordPress for your website instead of using one of the many other website builders out there, then you're in the right place! I've been creating websites for over 20 years and I'm convinced more than ever that WordPress is the best choice for most websites. Here are 20 reasons for using WordPress for your website or blog.
(Note: In this post, when I mention "WordPress," I am referring to the self-hosted version of WordPress, available for free at wordpress.org – not the hosted version available at WordPress.com.)
1. WordPress is Easy to Install.
WordPress.org offers step-by-step instructions for installing WordPress. Many web hosts also offer the option to automatically install WordPress on your account. Within a matter of minutes you can have WordPress installed and be ready to start working on your new website.
2. It's Easy to Use.
You don't need to have special software installed on your computer and you don't have to learn HTML or a programming language to edit your website. You can use any computer, an iPad or even a smart phone to make changes to your website – as long as it's connected to the Internet.
The WordPress admin area is also very user-friendly. You can quickly add or edit web pages or blog posts, add images, add links, and more.
3. Web Design Options are Endless!
There are thousands of free WordPress designs, called "themes", available. (Need help picking one? Read this: How to Choose a WordPress Theme.) There are also plenty of premium themes available for purchase as well. (My favorite? Divi from Elegant Themes.)
And the themes can be customized even further… allowing you to add your own logo, change the colors, change the layout, etc. You also can have a WordPress theme custom-designed just for you!
If you find a theme you absolutely LOVE, you can simply make a few minor design tweaks to it such as adding your logo and replacing the images. Or you might find a theme that's pretty close to what you want; but just needs some color or layout changes. Or maybe you just can't find a theme that matches what you have in mind for your website design – so you want something special created from scratch. That's OK too! The choice is yours.
4. WordPress has a Ton of Features.
WordPress is already loaded with many built-in features; but you can add even more through the use of plugins. There are thousands of plugins available that do all sorts of things, including adding a photo gallery or slider, blocking spammers from commenting on your blog, adding social media sharing icons, and more.
5. WordPress is Free (sort of).
There is no fee to use WordPress. You just have to pay for your domain name registration (your website address) and your web hosting account. Many times these costs are less expensive than other hosted website solutions. For example, Squarespace charges $26/month for their most popular plan.
(Note: You may also find a theme or plugin that you want to buy; but many themes and plugins are free.)
6. You OWN your WordPress Website.
When you have a website or blog on a hosted platform, you're at the mercy of their terms of service. They can shut down your site at any time and for any reason. But when you have a self-hosted WordPress website, you are in control of your website and you own all your content. The only terms of service you need to abide by are your hosting company's – and you can always switch to a different hosting provider if you want to. Speaking of which, that brings me to point number 7!
7. You can Switch Web Hosts.
With a self-hosted WordPress website, you're not locked into using one specific web hosting provider. If you're frustrated with your current web host (for example, if they have poor customer support or they can't handle all your website traffic), you can easily move your WordPress site to another hosting provider. Most web hosting providers support WordPress websites, so you will have many choices for selecting a web host. (I recommend Flywheel and SiteGround.) You can't do this for many of the hosted website platforms. For example, if you have a website on Weebly or Squarespace, you'll have to stay there; you can't simply move it to another hosting provider or platform.
8. You can Easily Add a Blog to your Website.
WordPress has built-in blogging functionality so you can easily start blogging whenever you're ready. You gain credibility when your blog is hosted on your own domain. Take a look at most reputable blogs. Very few of them are using a free blogging service like Blogger (Blogspot). It looks more professional to have your own blog – on your own website.
9. You can Add a Shopping Cart to your Website.
There are several different options when it comes to adding a shopping cart to your website. You can go as simple as adding PayPal "Buy Now" buttons to your web pages… or as advanced as adding a full-featured shopping cart! (I recommend using WooCommerce for most eCommerce websites.)
10. WordPress Sites are SEO-Friendly.
Unlike some "template" website builders, WordPress is great for search engine optimization (SEO). It includes built-in SEO tools and you can also add SEO plugins for even more SEO features. (I recommend the Yoast SEO plugin.) Plus, your SEO efforts will direct traffic to YOUR site — not to a hosted platform like wordpress.com or blogger.com.
11. You can have a Responsive Website.
A responsive website displays well on a variety of devices… from desktop computers to iPads to smart phones. Responsive websites are also better for SEO. Many WordPress themes are already built to be responsive. But if you find a theme that isn't mobile-friendly, you can use a plugin – or have a developer change the theme's code – to make it responsive.
12. Many other Companies Integrate with WordPress.
WordPress is one of the most common website platforms that other companies integrate with. Many of them have built-in integration with WordPress and others have WordPress plugins available. For example, most email newsletter service providers integrate with WordPress websites (including my favorite: ConvertKit). There are also integrations with LeadPages, Google Analytics, Facebook Ads and more.
13. You can Schedule your Blog Posts.
Start writing now while the thoughts are fresh in your mind… and save it as a draft until it's ready to be published. Have an upcoming vacation? Write your blog posts ahead of time and schedule them to publish while you're gone.
14. You can Password-Protect your Web Pages and Blog Posts.
You can setup passwords on individual pages or blog posts to hide them from the public. I have also setup password-protection for a client's entire blog category!
15. You can Prevent Spammy Comments on your Website.
If you allow people to comment on your blog posts, you're going to start getting spam comments. I recommend using the Akismet plugin to automatically prevent these types of comments from getting posted to your website. You can also setup WordPress so that comments don't get posted to your website until you approve them. Or you can just disable comments all together.
16. Built-in User Management is Available.
You can setup users with different permissions. Setup administrators to manage your entire website and setup authors to just write content. You can also setup subscribers – and let them manage their own profile. You can even choose to only let registered users leave comments on your blog.
17. It's Easy to Redesign your Website.
Select a different theme from the WordPress directory – or upload your own theme. With the click of a button, the content on your web pages and blog posts stays – but the entire website design changes. It's an easy process to give your website a complete makeover.
18. You can use WordPress as a Membership Site.
You can provide members with exclusive content that's not available to the public. Or you can use a plugin to create an online course that only paid members have access to.
19. You're in Control of Advertising (or not).
With a self-hosted WordPress website, you can include ads if you want to — and any revenue generated from those ads is yours to keep. OR… you may choose that you don't want to include any ads on your website. Either way, the choice is yours to make. With a hosted website platform, you are at the mercy of their advertising policies. Some don't let you do any advertising on your website. And others automatically include ads (where they benefit from the revenue – not you!).
20. You can Save Money on Updating your Website.
Most of my clients have me setup and create their websites for them. And then they do most, if not all, of their content updates themselves! They can add new web pages, write new blog posts, edit their text and images, and more – instead of paying someone to do every little update for them.
21. There is a Large WordPress Community.
Since WordPress is so popular, it's pretty easy to find answers to questions that you have. WordPress.org has their own support forums. And there are also many other websites and YouTube videos that provide WordPress tutorials and assistance too.
Have I convinced you to use WordPress for your website yet? Let me know in the comments below!
Don't forget it… Pin it!