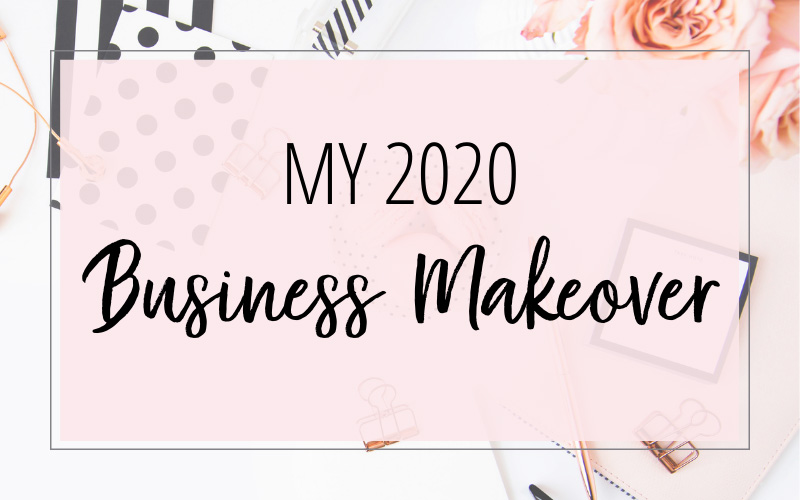 2020 has been a doozy so far, right? I know I don't need to list out everything that's upended our lives this year – because you're well aware of it all. Instead, I want to highlight some of the exciting changes that I've made in my business during this crazy year – and why I made them.
During a time when so many things seem out of our control, these changes have helped me to feel optimistic and excited about the direction of my business. If you're feeling a little "blah" with your business – maybe some of these ideas will inspire you to make changes to your business and get out of that funk!
Branding Refresh
What I did: I updated my brand colors and fonts just a bit. I replaced the turquoise color with a plum color – and then I slightly changed the shades of the pinks and grays that I was using. I also replaced the script font with a more informal handwritten font. And I stopped using the heart icons in my graphics.
Why I did it: Overall I was pretty happy with my previous branding; but I felt like just a few tweaks would really make a big difference. I still wanted my branding to be feminine; but I wanted it to be a little more laid-back and a little less cutesy. Think of your favorite, super soft and cozy blanket that you like to cuddle up with when you're enjoying a latte or a glass of wine. That's the vibe I was going for.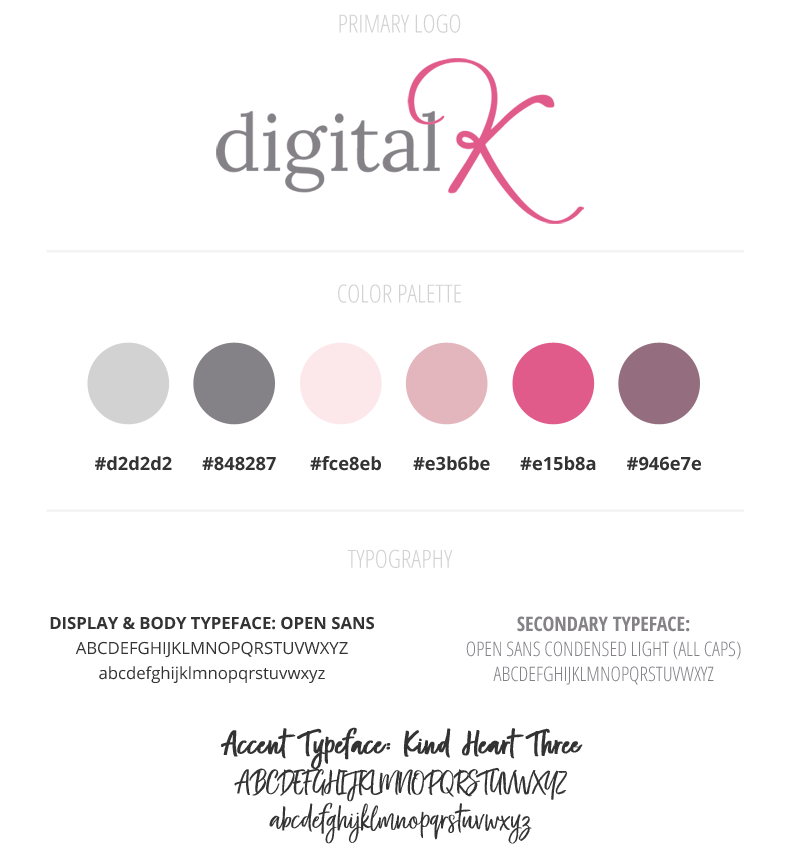 New Website
What I did:
In addition to updating my website with the new colors and the new font from my branding refresh, I also created a new website design and new web page layouts.
I restructured and reorganized my website content, including adding and deleting web pages.
I rewrote a TON of my website content.
I changed my website's domain name from digitalKonline.com to KellyWard.com.
Why I did it: Of course when you update your branding, you need to also update your website to have a consistent look-and-feel. But I also knew I had content on my website that didn't line up with the current offerings and processes I have setup in my business. So I reorganized and rewrote a lot of the content.
I also wanted to have a more personal side to my business. The branding refresh was part of that – but so was changing my domain name. Instead of working with Digital K, LLC (which is still the official name for my business), I wanted people to feel like they had a personal connection to me. So I changed my domain name from my business name to my personal name. Plus, I'm not gonna lie… I was tired of people thinking my business name was "Digi Talk" instead of "Digital K". And kellyward.com is a much easier domain name to tell people than digitalkonline.com.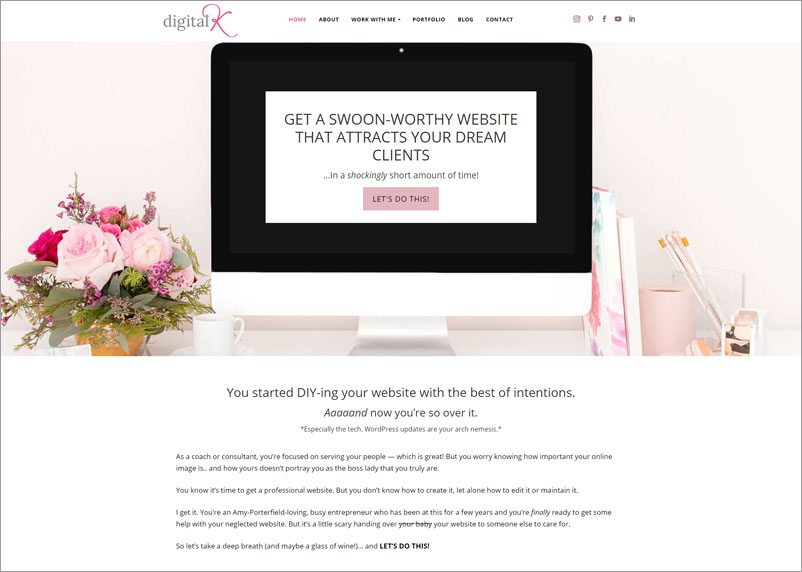 New & Updated Service Packages
What I did: I revised my web design offerings into two packages. One package is for people who need a website fast (in just one week!). And the other package is for people who want a custom-designed website.
I also created a new service offering: One Day VIP. This is for people that have a list of things that need to be taken care of with their website: web design tweaks, website updates, website troubleshooting, creating graphics, etc.
Why I did it: I revamped my web design packages:
to better match the things my clients have been asking me for (and things I know my clients need but they might not know it!) and
to streamline my web design process (which makes the whole experience that much better for my clients and for me!)
I created my new One Day VIP service after I had several clients request a list of work that they needed done. I discovered that I was soooo much more efficient with my work, when I did the work all in one day. And my clients liked how much work I got done in such a short amount of time!
For all of my website services, I'm always trying to perfect them in order to better serve my clients – and in order to better match my business priorities and goals.
Flexible Payment Plans
What I did: I added new, flexible payment options for my web design packages and for my "Do It Right Website" course bundle. Instead of choosing between just 1 or 2 payments, now my clients and students can choose an extended monthly payment plan.
Why I did it: The Covid-19 pandemic has hit a lot of businesses hard. When I had clients worrying about whether they could come up with enough money for their new website or for my online course, I wanted to help. So I started offering extended monthly payment plans. We're all in this together – and I want to help out fellow business owners.
Cut Expenses
What I did: Speaking of Covid-19, it affected my business too. Just like many other entrepreneurs and businesses, I tightened up my finances. I started out by taking a close look at all my business expenses. I have a spreadsheet where I keep track of all my recurring monthly and annual expenses. For each expense I asked myself if that was something that's helping my business be profitable. If I felt I could do without it, I cancelled it. This ended up freeing up some extra money each month that I could then save and use as a safety net as this pandemic continues.
Why I did it: I always go through this evaluation of my expenses at the end of every year. But because we're living in an extraordinary time, I felt I needed to go through this process again with an even stricter focus on cutting expenses. This process helped me save some money that I could save for emergency use. It also gave me a feeling of control and eased some of the worry about how my business will survive the coronavirus crisis.
Increased Expenses
I bet you weren't expecting that, were you?! Let me explain:
What I did: After a few months of reduced expenses, this summer I felt like things were in a pretty good shape with my business financially. My emergency fund was growing and my business wasn't hit as hard as I had feared when the pandemic first started.
It was at this point that I again re-evaluated my business expenses. Some of the services that are critical to running my business efficiently started offering lifetime plans. So I decided to jump in on those offers.
I also invested in a business coaching program that I had wanted to join for several years; but never felt like it was the "right time" to spend the money on.
Why I did it: The lifetime plans I purchased were for services I was confident I would be using for a very long time. I calculated that I would "break even" and start saving money after just a year or two.
The coaching plan I invested in was something that I felt my business was ready for – and that I personally was ready for. It's something I am going to use to grow my business to set myself up for a great 2021!
So while I'm still being cautious about my business expenses during this pandemic, I also need to keep thinking ahead and making decisions that will help out my business in the future.
Speak Up
What I did: I started something new! It's called Speak Up. As my schedule permits, I am providing free website services to businesses, organizations and causes that are dear to my heart.
I kicked things off this summer in support of the Black Lives Matter movement. I accepted submissions from Black-owned businesses and organizations, as well as organizations or causes that benefit the Black community. And starting this month I have opened it up to be available to other businesses, organizations and causes that need some help.
Why I did it: This is something that had been on my "To Do" list for about a year. The idea came to me after I read this Bible passage:
"Speak up for those who cannot speak for themselves, for the rights of all who are destitute.
Speak up and judge fairly; defend the rights of the poor and needy."
— Proverbs 31: 8-9
That passage reminded me that I need to speak up for the rights of people who are unfairly treated. And I can take it a step further by donating my services to help others as well.
Phew! That was a lot of changes in one year! Have you made any changes to your business this year too? I'd love to hear about them in the Comments below.
Don't forget it… Pin it!